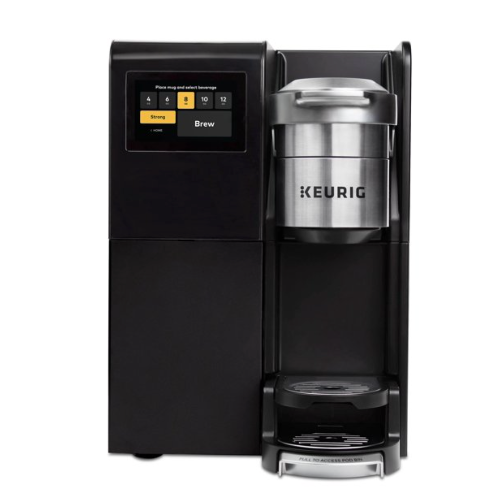 NEW Keurig K3500 Commercial Coffee Maker Black - Waterline Connection NSF
Keurig K-3500 Single-Serve Commercial Coffee Brewer, Black/Silver - The Keurig K3500 Commercial Brewer is ideal for large businesses. It delivers freshly brewed coffee, tea, and hot cocoa in about a minute.

Uses water filter kit: GMT5572
Brew a wide selection of beverages with 150+ Keurig K-Cup pod varieties from over 30 top brands.
Brews 5 cup sizes (4, 6, 8, 10, and 12 oz.) and can accommodate a travel mug.
Strong option delivers a bolder, more intense flavor.
Intuitive user interface delivered on a hi-res touch screen.
Pod auto-eject functionality.
Direct-waterline plumbed for continuous back to back brewing, without having to refill a water reservoir.
Dedicated on-demand hot water dispenser.
Screen saver feature saves energy when not in use.
Internal water tanks is completely drainable for easy transportation and relocation.
Modularly designed to be fully serviceable and engineered with commercial-grade reliability.
Commercial UL and NSF Certified.