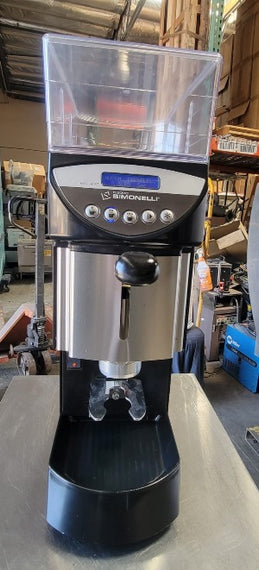 Nuova Simonelli Mythos Plus 7 lb. Espresso Grinder-110V Works Great
The Nuova Simonelli Mythos Plus espresso grinder is the perfect solution for your high-output coffee shop or restaurant. The system operates to lessen coffee waste, making this machine cost-effective. It features a specialized micrometric grind adjustment system to give you infinite control over grind settings to get the precise grind that you need every time. Its sleek LCD multi-function display allows you to easily control your grinding options while maintaining an elegant appearance. With a 7 lb. capacity bean hopper, continue to make as much product as possible for your busy coffee shop or restaurant without worrying about long wait times for your customers.
This grinder features a built-in tamper to tamper your grind to the optimal pressure, delivering consistent espresso. It has 3 different programmable dosage settings, an on / off dosage mode, and a barista mode to perfectly fit your needs. Its clump-crushing technology eliminates clumps in every dose, leaving you with a fluffy and exceptional dose. This grinder is able to hold the portafilter while it is dosing, so you can easily focus on other tasks during the grinding process. Its durable titanium 75 mm burrs allow you to grind up to 3500 lb. of coffee before needing replacement, 2x the standard lifetime of stainless steel burrs. This grinder requires a 110V electrical connection for operation.