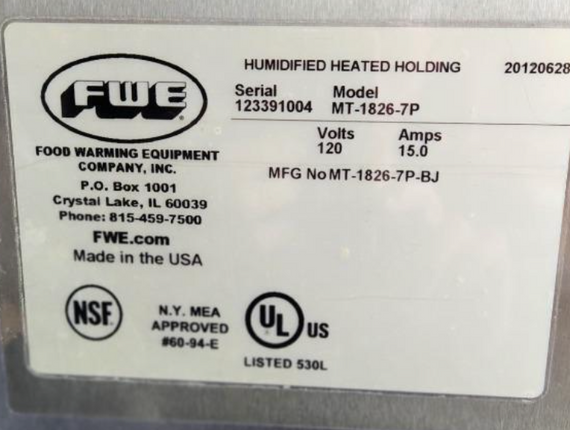 FWE / Food Warming Equipment Co. MT-1826-7P PROOFER & HEATED HOLDING CABINETS
NEW ONE PRICE OVER $12,400.00

FWE's PH series are the most versatile and best performing humidified holding bulk food cabinet on the market today. The PH series can accommodate a wide range of trays and pans, including 18x26, 12x20, 14x18, 12x18, 20x22, 10x20, and GN 2/1. Simply load the proofer with your trays and pans of cooked, hot food and this warmer will keep your food hot and moist until serving time. The separate controls for air moisture and temperature allow the operator to easily adjust to maintain optimum temperature and moisture content.

The PH series cabinet features FWE's heavy-duty all stainless steel construction and is fully insulated. Welded construction and our exclusive tubular stainless steel base frame ensure that this humidified holding cabinet will withstand the most demanding use.

FWE's Proofer Heat System eliminates hot and cold spots by gently circulating hot, moist air throughout the interior of the cabinet. Humidity can be added and adjusted to preserve the moisture content of the food keeping the food fresh and hot for hours.

The heat system is built into the cabinet to reduce maintenance and cleaning costs. Clean up is effortless. The controls are upfront and eye level, featuring a full range thermometer and thermostat with a scale of 90 degrees F to 190 degrees F. The moisture is easily adjusted by a dial with simple settings.

Mobile proofer holding cabinets are the heart of every food service operation. FWE offers the best designed, the best built and the largest offering in the industry. We have humidified holding carts to fit whatever size of your operation. With our heavy duty stainless steel construction our cabinets are built to withstand the rigorous demands of your unique environment.

If you're looking for the best restaurant equipment, buffet food warmers, catering equipment, cafe equipment, cafeteria equipment, catering food warmer, commercial food warmer, commercial foodservice equipment, commercial restaurant equipment, correctional food service, discount catering equipment, discount restaurant equipment, equipment for restaurant, moisture cart, moisture food warmer, food warmer, food warming, foodservice equipment, heated cabinet, heated carts, heated holding, holding cabinet, institutional foodservice, new restaurant equipment, restaurant catering equipment, restaurant equipment, school foodservice equipment, cafeteria equipment, wholesale restaurant equipment, whatever you call it, we have a cabinet for you.
Make your choice FWE... the "Choice of the Professionals". proofer cabinets are built stronger and out perform all other brands! These units can double as full-time heated serving cabinets as well
Agency Approvals
CE - The CE mark is mandatory for products sold in the European Economic Area. It indicates the product conforms with certain manufacturing and design safety requirements. CE is similar to UL except it's more of a declaration by the manufacturer that the product meets the relevant rules, rather than being the mark of independent testing.
Bumpers
Top Corner Bumpers - Top corner bumpers are a good option for those customers not needing the protection of a full bumper, but still require protection for walls and surrounding equipment.
Full Bumper - Heavy duty full perimeter bumper extends beyond doors and handles for added protection. The bumper is mounted to the base frame for added durability - the bumper is not used as the base frame. In this way, the bumper absorbs all the shock in transport, protecting the integrity of the construction.
Caster
Adjustable Legs - FWE offers a wide variety of adjustable legs for when casters are not an option. 4" and 6" adjustable legs are available on almost all of FWE's equipment.
All adjustable legs are provided with sealed precision bearing with a black anti-rust coating.

Larger & Upgraded Casters - Larger Casters
Control Panel
Electronic Controls - Electronic controls featuring easy to read digital display of cabinet temperature (with recall capacity of temperature set point and actual cabinet temperature), equipped with a programmable low temperature alarm, master ON/OFF switch with power indicator light.
Door Latch
Padlocking Transport Latch - Cabinet mounted latch keeps door secure during transport, increased security with padlocking capabilities
Key Locking Door Latch - Heavy duty door latch with key locking capabilities
Magnetic Door Latch - Heavy duty full grip magnetic door latch
Paddle Door Latch - Recessed paddle style door latch