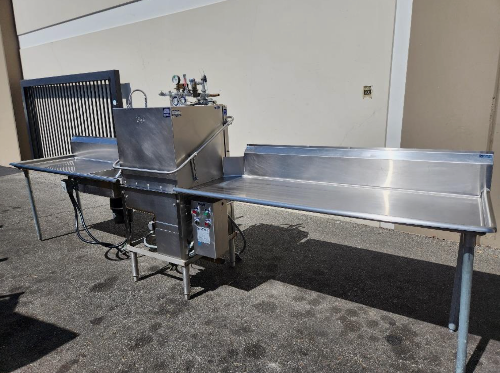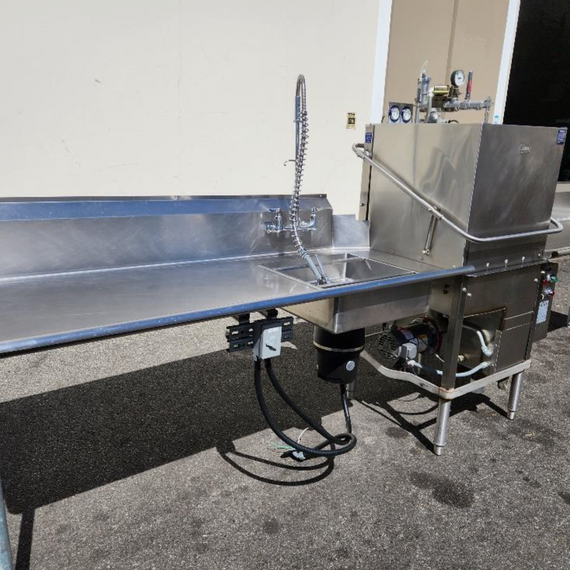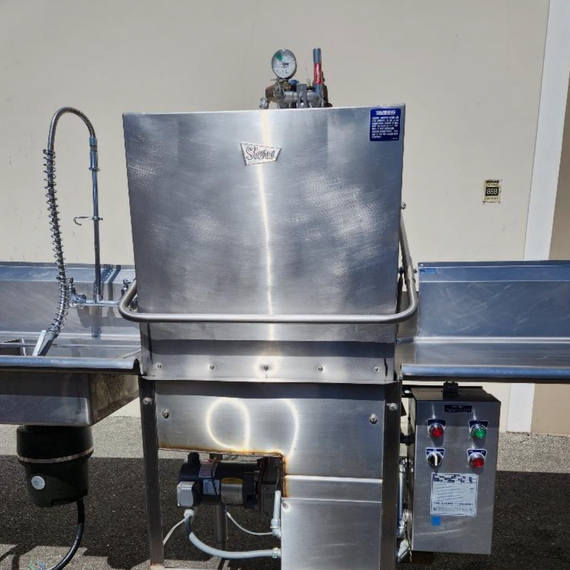 STERO SD-2RA Hi Temp Dishwasher 208V 3ph 2 Drain Board 168" wide Works Good !!
STERO SD-2RA Hi Temp Dishwasher 208V 3 ph. 2 Drain Board 168" wide Clean Works Good. with
72" Right side Drain board + 72" Left side Drain board with Sink + Garbage Disposal.

Stero's compact and flexible single tank, high temperature door type warewasher. Powerful Cleaning Action •Produces 53 racks of clean ware per hour. •Revolving upper and lower wash arms direct 185 gallons of recirculated water over the ware per minute, providing for a thorough wash and rinse. •High temperature 180 degree sanitizing rinse also enables the ware to dry quickly. •Wash and rinse cycles can be bypassed with manual controls to handle hard to clean ware. Compact and Flexible Design •Fit in a 25 inch space. •Racks can easily be loaded from any direction because Stero's exclusive cantilever door does not require front corner posts. •The SD-2RA can be converted to a corner machine quickly and easily. •Wrap-around handle is easily accessible from three sides. Standard Safety Features •Door safety switch will not allow the machine to run unless the door is fully closed.
Type 304, 18-8, #4 stainless steel tank and hood. •Stainless steel frame and legs. •Enclosed adjustable stainless steel feet. •Stainless steel strainer pans filter wash and rinse water. •1 HP. drip-proof motor has overload protection, extended stainless steel shaft, sealed ball bearings and manual reset buttons. •Complete internal plumbing and wiring. Miscellaneous Options •Electric, gas, steam injector or steam coil tank heat. •Automatic fill. •Kit #55, a pre-plumbed and installed plumbing kit which includes a pressure regulating valve, pressure gauge and a shock arrester. •Stainless steel front panel. •Door cycle switch. •Door interlock. •Electro-lift door mechanism. which automatically opens the door without operator assistance at the end of each cycle to speed drying. 
SD2-RA
DM
 2" NPT (F) DRAIN, MACHINE WASTE:
WH
 3/4" NPT (F) WATER SUPPLY: 180ºF @ 20 PSl FLOW PRESSURE, TANK FILL & FINAL RINSE CONSUMPTION = 92 GPH.
EM1
 ELEC. REQ. 1 FEEDER SIZED FOR WASH PUMP MOTOR 1HP =
EM2
 ELEC. REO. 1 FEEDER SIZED FOR TANK HEAT- - - 5KW =
SS
 1/2" NPT (F) STEAM SUPPLY: 15-40 PSI CONSUMPTION @ 20 PSI TANK HEAT = 15 LBS/HR.
SR
 1/2" NPT (F) STEAM RETURN:
NG
 1/2" NPT (F) NATURAL GAS SUPPLY: CONSUMPTION = 22,000 BTU
VG
 NOTED VENT, GAS FLUE 1 5/8" x 6" VENT O.D. 61" A.F.F. VENT TO ATMOSPHERE